Case Study: Wood Pallet Washer Conveyor Filter
Washer Conveyor Filter
INDUSTRY: Automotive
APPLICATION: Wood Pallet Skidwasher Conveyor
PARTICULATE SEPARATED: Wood chips & fibers
PROCESS EQUIPMENT: HydraKleen® Liquid-Solid Separator on Washer Conveyor
PROBLEM:
An engine remanufacturer wanted cleaner wooden skids for shipping finished engines. To maintain skid quality, the skidwasher conveyor water and chemical additive were dumped and refreshed every two days. Maintenance was high with constant skid rework and clearing wood chips from obstructed spray nozzles. Under this arrangement, operation, maintenance and water/wastewater costs were extremely high.
Dirty wooden skids on conveyer belt entering washer conveyor
SOLUTION:
EFS installed its HydraKleen® Liquid-Solid Separator in sidestream to the reservoir tank of the skidwasher conveyor. HydraKleen® extended the life of water and chemical additive from 2 days to 2 weeks. Nozzle obstruction is virtually eliminated and overall maintenance reduced, resulting in much higher product throughput. With installation of HydraKleen, water/wastewater costs are dramatically reduced and skid quality remarkably improved.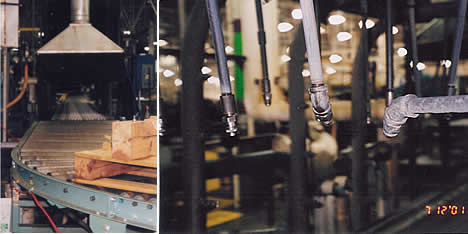 (Left) Wooden skids come out clean with HydraKleen separator;
(Right) with HydraKleen, spray nozzles are now free from obstruction for assuring high-pressure spray